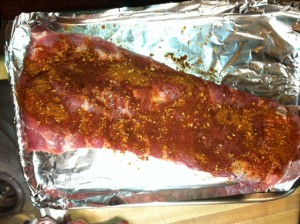 Happy Trails! Chili Rubbed Ribs
Line baking sheet with a piece of foil.
Rinse one slab of St. Louis or baby back ribs and rub both side with Happy Trails! Chili Seasoning Mix.
Bake uncovered at 275 degrees for approx. 2 1/2 hours until tender (St. Louis take longer to cook).
Brush with BBQ sauce if you wish and crisp under broiler or on the grill.
Hint: I refrigerate ribs after they are tender and finish on the grill from a cold state so they will not fall apart!
You can make BBQ Chili chicken wings they same way – even turkey legs!
---
6 ears of husked sweet corn
1/4 cup mayonnaise or olive oil
3 T. Happy Trails Chili Seasoning Mix
one lime cut into 6 wedges
Coat corn with mayonnaise or  olive oil
Sprinkle on chili seasoning to taste
Grill until slightly charred and done
Squeeze on lime juice
---
Super Sunday calls for great finger food. Add Happy Trails! Spicy Chicken Skewers to your game day menu.
Happy Trails! Spicy Chicken Skewers
Slice chicken breast into long strips. Lightly toss with oil.
Add Happy Trails! Chili Seasoning Mix. Toss.
Cover and refrigerate for a few hours.
Place chicken on skewers. Grill.
Serve.
---
More Super Bowl recipes! Try these crowd pleasing wings for your game day shindig!
Happy Trails! Chili Wings
Preheat oven to 450 degrees.
Line baking sheets with parchment paper.
Lightly oil.
Add wings to large bowl, toss with Happy Trails! Chili Seasoning Mix.
Toss to coat.
Bake until brown and crispy about 40 min.
Enjoy!
---